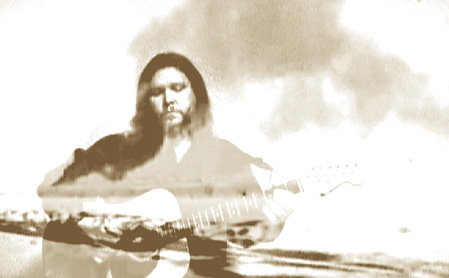 Through eclectic, accessible songs that merge folkways with futurism, singer/songwriter ANDY SPAIN is melding past and future into something relevant for the modern age.
His first full-length album, Love In The Age Of Circuitry, was released August 17, 2010, bringing his unique songwriting style, dubbed "SCI-FOLK", to a wider audience. He has since followed up with a 2011 EP, Fall Festival, and a second full-length album, Songs of Peace and War, in 2013.
Raised on a healthy diet of vintage country music, church hymns and acid rock, Andy gained an early appreciation of the power of lyrics and melody. Since writing his first song at age 13, he knew what he wanted to do with his life. Later exposed to such greats as Bob Dylan, Neil Young and Frank Zappa, Andy also learned what it means to be original.
"My most noticeable influences are Bowie, Neil Young, the Beatles and Radiohead. I really love good lyrics, and a nonconformist attitude. I love outsiders, and I feel like being one is a good thing because it helps distinguish you from everybody else," the songwriter admits.
The result is an eccentric confluence of complex lyrics and resonant melodies you'll find yourself humming the next day. As a solo performer on acoustic guitar and vocal (with occasional bursts of harmonica, synth and distortion), Andy's shows are at once grand and intimate. His earnest, folksy demeanor engages fans, drawing them into his unique subject matter.
"What (Sci-Folk) means to me, above anything else – robots, whatever – is the merging of old and new, past and future," Andy remarks.
"These are the two pressures we constantly live under, and they are juxtaposed in our lives. I feel like so many people try to live in the past because they are afraid of the future, while others shun the past and dream of the future, maybe because the present is so scary. Sci-Folk is medicine for scary times."
In 2013, Andy assembled a band and is currently performing as Andy Spain and Lost Astronaut.
For booking, interview or other information about Andy Spain please email contact[AT]andyspainmusic.com, or use this handy form.
Become a Friend of Andy! Join the FAN CLUB »